It might just be the best bike I have ever ridden!
So, I have been riding mountain bikes since the late '80s, I am a pro guide and MIAS,(Mountain Bike Instructor Award Scheme) and I am a tutor with a wealth of experience and knowledge.
Along with this, I've read every review on the Rocket and the Rocket Max, trying to make an informed decision on the one to buy for the guiding and riding I do here in the Almanzora valley, Spain…
The Conclusion… I like the red one.
The above is an extract from a Facebook post I made on the group page "Cotic Bikes owners and fans" in late September 2017. I knew what I wanted a frame that was capable of taking a 160mm fork with a boost back end. At the time the Rocket didn't have a boost back end and the Rocket Max was only specced to take a 150mmfork.
Fortunately, my state of indecision was short lived as within a couple of weeks the Rocket Max was re-specced to handle a 160mm fork… So, that was it decision made… I like the red one.
A couple of emails to Si at Cotic HQ and boom I was sorted.
I really wanted to share my reasons as to why I chose Rubia, the Rocket Max. As a Mountain Bike guide I needed to build a bike around the terrain and routes I ride on an everyday basis.
I live in Almanzora, in the foothills to the Sierra de los Filabres, the largest mountain range in Almeria province, Andalucia. The range is approximately 60km long, 30km wide and its highest peak is Calor Alto 2168mtrs. To the South is an area known as "the badlands" of Spain and is categorized as the only true desert in mainland Europe.
The riding here can, for the most part, be likened to Chile, we experience for much of the year a condition known as "anti-grip" with harsh baron landscape especially on the South side of the Filabres. Big volume tyres are definitely an advantage, tubeless with protection being the order of the day.
Here's a full spec list, parts chosen with durability being the prime factor.
11 speed because Eagle 12 speed had forced a price drop on 11SPD groups (and I am Sram man as opposed to Shimano) along with DMR AXE cranks, great value for money and robust.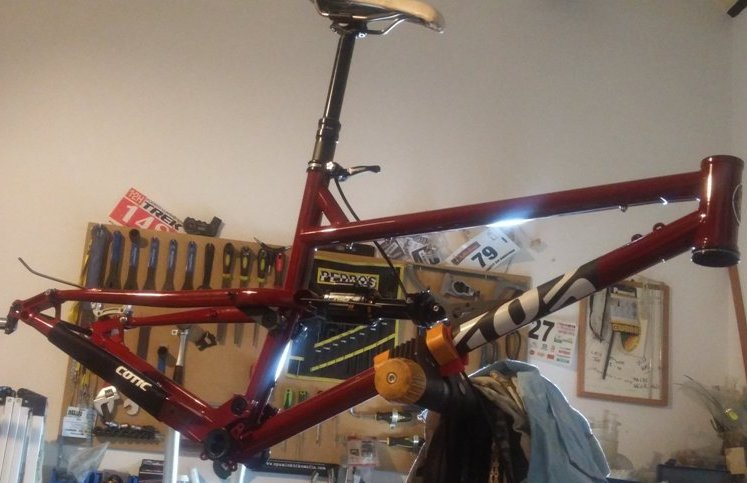 Medium Rocket Max with Cane Creek DB air IL
Rock Shox Lyrik 160mm RCT3 Solo Air boost.
Stans Flow MK3 Rims with Hope pro 4 hubs boost back and front
Tyre front – 2.8 Maxis Rekon+3C Maxx Terra Silk shield EXO
Tyre rear – 2.6 Maxis Rekon EXO TR
Tyre inserts – Nube protection back and front
Cane Creek headset series ZS44 ES44
Renthial Apex Stem 35mm clamp 40mm length
Renthial fat bar lite carbon 35mm clamp 760mm wide
Sram guide RSC brakes
180mm rotors back and front
Uberbike half waffle lock on grips
Sram XO1 11 spd rear shifter
DMR AXE Cranks 170mm with DMR Blade ring 30T
Bottom bracket – Praxis Works M30
Pedals – Superstar Nano through pins.
Seat post – Rock Shox Reverb external cable non-paddle
Seat post-QR Hope
Saddle – Fizik Gobi (recovered)
Cassette – SramXO1 42T
Rear Mech – Sram XO1 Chain Sram 11spd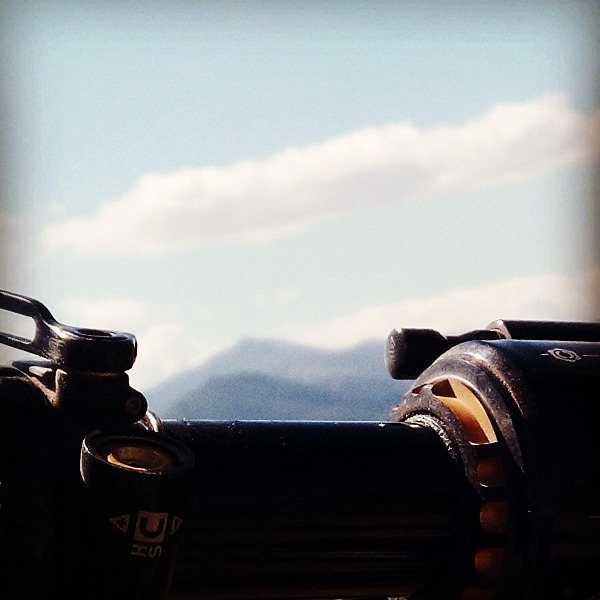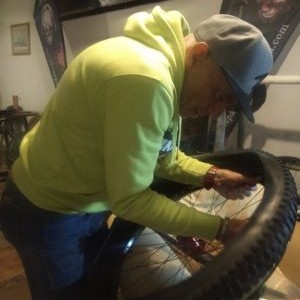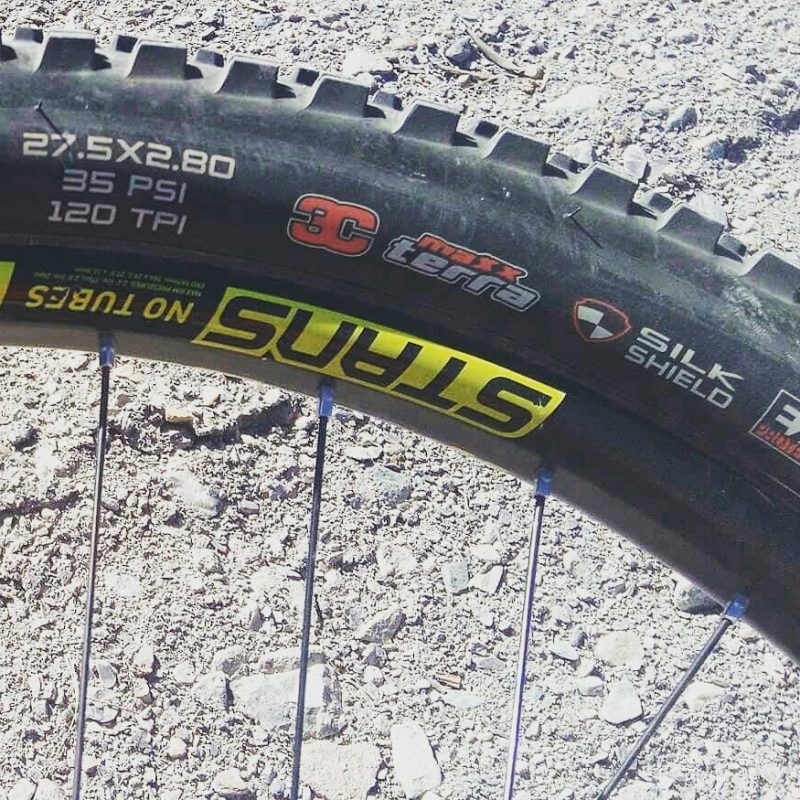 I ain't no bike tester
In the past, I've ridden almost every brand, my previous bike that the Rocket Max replaced was a Yeti and my very first bike was a Saracen Tuff Trax (Chr mo). I'm 5' 8" tall in old money and weigh 11 stone (ish). I run 78psi in the Lyrik with 1.5 volume spaces.
The Cane Creek DB air IL I run at 130psi with: HSC I turn from fully open LSC 7 clicks HSR 2.5 turns (I ride flat pedals) LSR 9 clicks In the tyres dependent on the route 13-15psi in the front, 20psi in the rear. Both have Nube protection fitted which takes up approximately 85% of the volume and unlike some other systems on the market goes a long way in maintaining sidewall integrity when the bike is pushed into corners.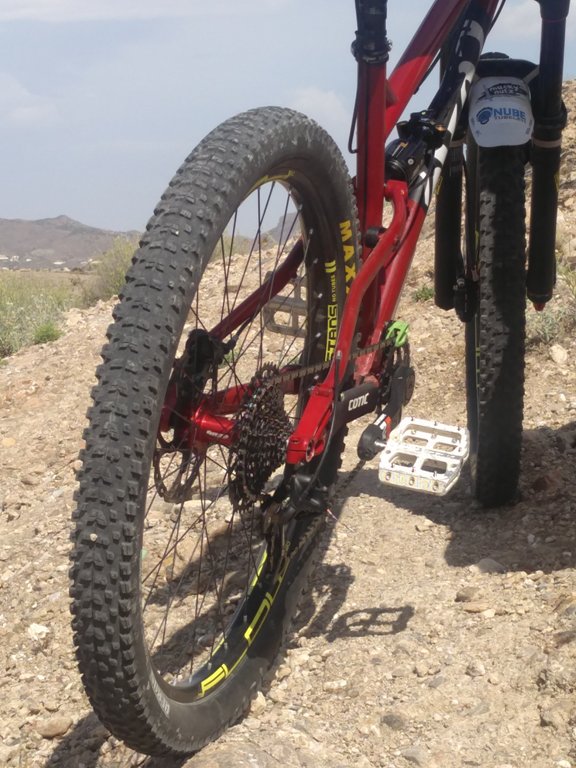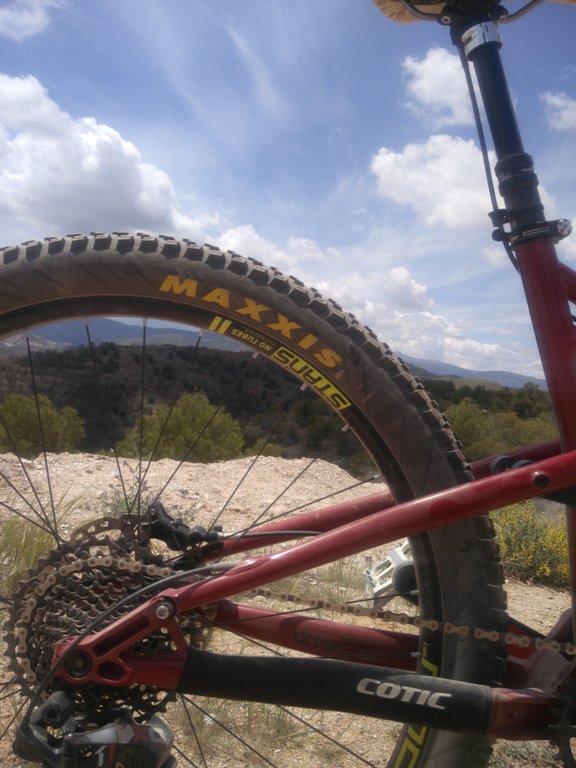 I've been guiding using Rubia (I name all my bikes) for just over a year and she never stops giving.
Cotic is based in the Peak District in England, the Peak is split into two halves, the white Peak which is predominantly arable with limestone outcrops and the dark Peak with Heather moorland and gritstone edges. Cotic HQ is in Stoney Middleton, just into limestone country, Why am I telling you all this, well the Rocket Max is like climbing on gritstone. Gritstone is a magical rock, very sticky with lots of grip, it leads you upwards often taking you out of your comfort zone very quickly making down climbing difficult.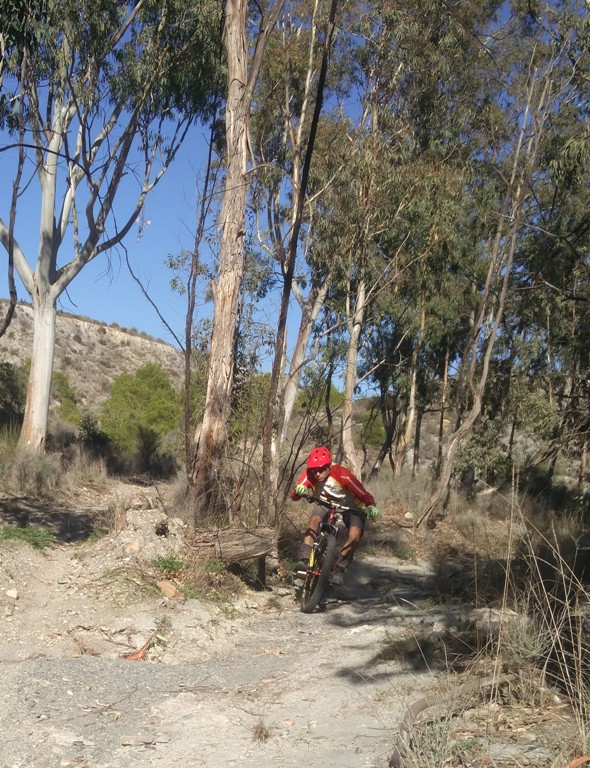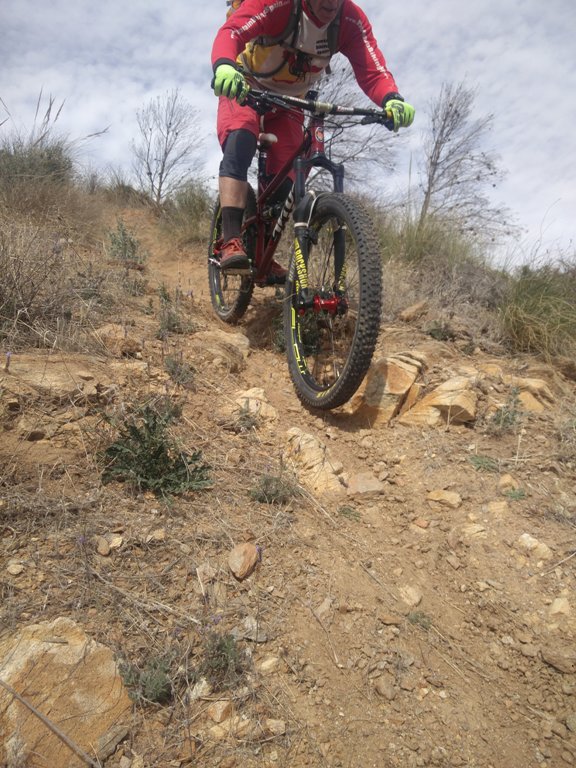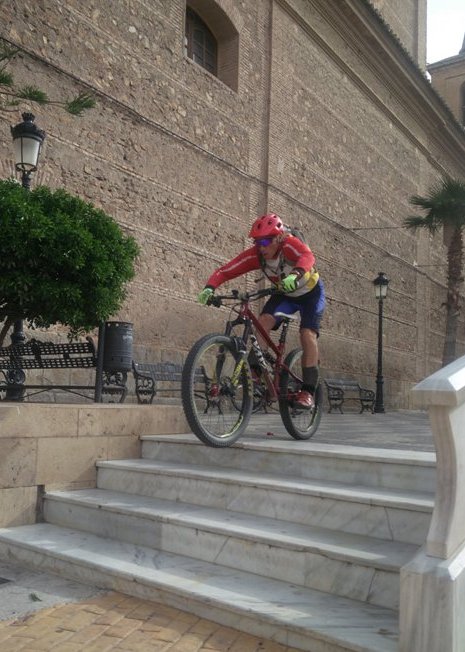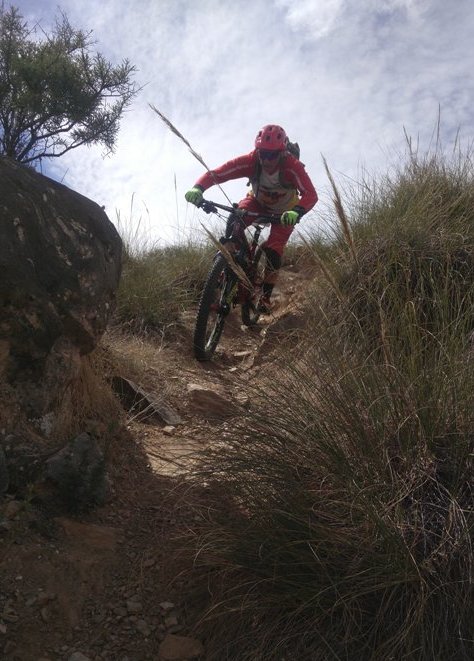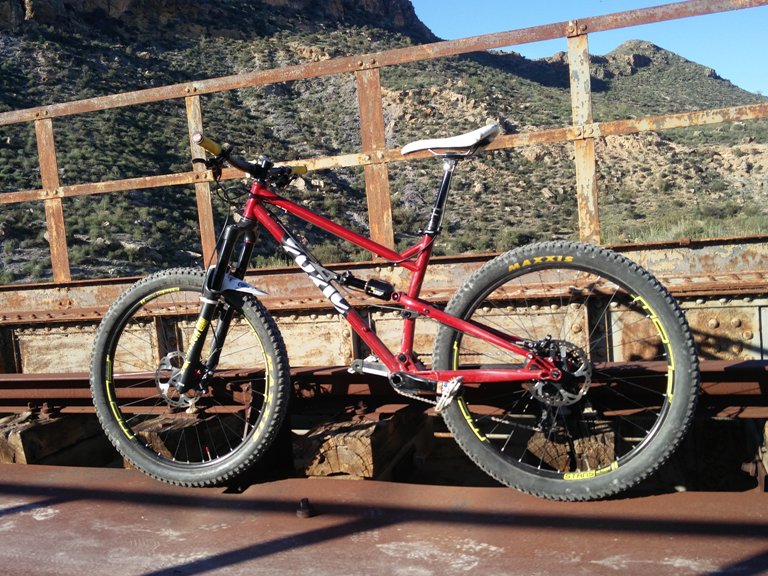 The Max rides like that, it inspires confidence and I found myself riding lines I wouldn't dare look at on other bikes. On the steep techy stuff, it's unstoppable, fast, and feels very stable. With a 2.6 tyre on the rear, it climbs off-road like a mountain goat, on tarmac predictably like a donkey. As expected it gives a poppy, lively ride and is the best all-rounder I've ever owned.
Another big plus is how easy this bike is to maintain unlike some other brands which can be very fiddly, its clean slick lines make it a doddle to keep dust and crud free. The bike always generates a lot of interest with foreign guests and never disappoints always giving them a smile. If you are looking for a "proper" all-rounder look no further than the Rocket Max.
"Steels real, steels real baby"
Happy trails.
Victor and Rubia
For this and other steel beauties check out the Cotic website.